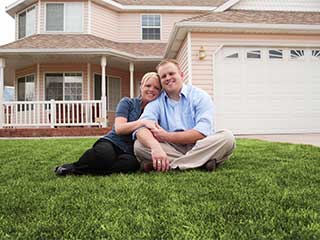 Different couples have different ways of celebrating and enjoying Valentine's Day. Some are adventurous enough to go hiking while others would simply prefer to stay back on their couch and watch a movie of their choice. If you are someone who is in between the two extremes, then there is one way of making Valentine's Day exciting for you without you having to leave the comfort of your own home. That garage door you have can serve a number of different purposes, especially on special occasions such as these. Did you know that you could actually convert that door into a giant movie screen? Instead of just watching a romantic drama on the television like you always do, you could watch a movie with your loved one inside or outside your garage to make this year's Valentine's Day memorable.
Things You Need
To get started, you obviously need a garage door that functions properly. Make sure that the door has been maintained or repaired prior to this setup so that you do not encounter any last minute problems while trying to project the movie onto the garage door. If the color of the door is white, then you will most likely be able to project it directly. However, for garage doors of a darker shade, a white sheet that can be easily placed over the door is required. Test the white sheet out with the projector to make sure that everything fits into the given space. To obtain the perfect picture clarity and size, you would have to move the projector around for a while and adjust its position. If you do not have a projector at home, you can get one for an affordable price. Make sure that you buy high quality speakers along with the projector. Sound is very important in creating the perfect ambience for a romantic movie date on Valentine's Day.
Inside the Garage Vs. Outside the Garage
Whether you'll want to watch the movie inside the garage or outside depends entirely on you and your preferences. If you want a bit of privacy with your loved one on Valentine's Day, then sitting inside the garage would be the better option. This will create a setting which is very similar to a movie theatre. An indoor environment would also help you better appreciate the quality of the picture and the sound. This is quite important when you are watching an emotionally draining romantic drama as these movies often require your full attention. You can think of this garage door project as the perfect alternative to a big screen television set which can cost a lot of money. Not to mention, staying inside the garage prevents you from disturbing the neighbors and so you have the luxury of binge watching a movie with your special one all night long.
If the weather outside is warm, breezy and comfortable, then you could set up the projector outside the garage. This experience would closely resemble that of going to your own personal drive in. If your neighbors aren't around and if you and your partner are looking forward to enjoying the freshness of the open air, then this is a wonderful option. After all, can there be anything more romantic than sitting beside your beloved under the open sky while enjoying your favorite Hollywood flick?