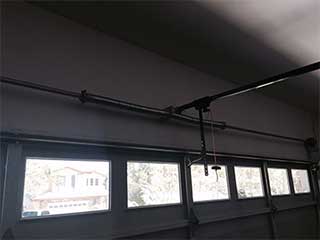 What Is A Garage Door Spring?
Essentially, this is the "muscle" that's in charge of lifting your garage door off the ground. It may not look like it, but your door is a heavy piece of machinery that requires a good amount of energy to move. With torsion springs, it's a twisting motion that expands that energy. With the extension type, it's a stretching action.
Without the spring, your garage door wouldn't be able to work! That's why it's important to ensure that it stays good shape, otherwise you may find yourself with a broken one and a door that's stuck.
This Is Where We Come In!
No matter what type of spring your garage door has, our professionals can take care of it! With years of experience in handling both kinds, they'll be able to easily solve any possible problem. Using your door daily means most of its components are bound to wear down over time.
In fact, you may have already noticed signs that something is wrong.
If your garage door shakes while it moves, only goes up a little and then stops, or if you've heard a loud noise from inside your garage but can't detect a clear source for that sound, you may have a broken spring on your hands. Luckily, our professional technicians are available, so it won't be literally "your hands" that deal with it.
Acting fast is necessary in the case of a broken spring, and you should call our team as soon as you can. It's not only because your door's ability to function properly is highly impaired now, but because the situation can be quite dangerous and trying to operate the system under this condition is highly inadvisable. Not to mention, the situation will worsen the more you wait.
We can repair the damage, or replace the broken spring with a new one if necessary.
Some homeowners call us simply because they've decided to upgrade their extension system into a torsion based one. These types of springs are known to last far longer, as well as be generally safer if they do break, due to their twisting action, which helps prevent them from "flying off" the way extension type do when they snap.
Call Us Today!
Let our Garage Door Repair Saint Paul team know whenever you need assitance.
But wait, there's more! We also offer:
Garage Door Safety Inspections
Opener Sensor Repair & Replacement
Extension Spring Adjustment
Broken Garage Door Track Repair