Track Replacement
Customer Issue: Mrs. Henry's slowing garage door had been causing her to be delayed in her comings and goings.
Our Solution: We found that Mrs. Henry's garage door had slowed due to damage to one of the tracks, likely due to something hitting it. Our experts disconnected the springs and cable, after releasing the tension to remove the door. This way, the broken track could be easily accessed and removed. Once the new track had been bolted in, we reinstalled the door and checked that it slipped along smoothly.
Marguerite Henry
- Roseville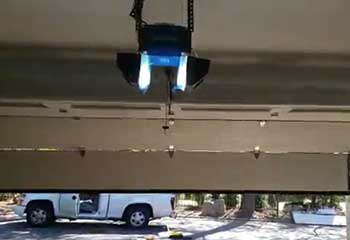 Garage Door Opener Repair
Customer Issue: Mrs. Hawkins felt that her garage door had been making an unusual amount of noise while it moved, and wanted it examined.
Our Solution: We looked over Mrs. Hawkins' garage door system, and felt the most likely cause would have to do with the Genie 3042-TKH model garage door opener. Once it had been uninstalled, our professionals opened and examined it thoroughly. We noted that the motor had sustained some damage and repaired it, before testing to assure the sound had stopped.
Ellen Hawkins
- Roseville