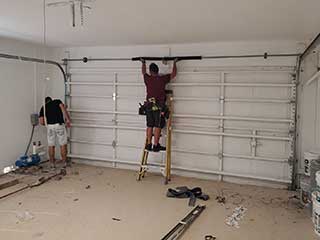 Finding what's wrong with a garage door can sometimes be tricky. But when a broken spring is causing problems, it's very easy and straightforward to find and fix the problem. You need to replace it! However, garage door springs carry a lot of tension, so this is a task you'll want to let a professional handle. You can get injured very seriously if you mishandle the broken spring replacement process. So instead of taking needless risks, let a nearby repairman assist you. Garage Door Repair Saint Paul provides the fastest same-day solutions for broken springs and cables. Whenever you need help, you'll find us ready and able.
Why Garage Door Springs Are Important
To put it simply, barring the door itself, they're the most important parts of the system. You see, garage door springs serve as the counterbalance mechanism for the panels. They not only support their weight but also help you lift the door like it weighs nothing. Because it certainly weights quite a bit, but the springs, providing assistance, make it seem like lifting over a hundred or two hundred pounds is not a big deal at all. The springs on your Saint Paul garage door have a very important job. That's why, when they break, you suddenly can see opening the door becomes a lot more difficult. In fact, you should probably not try to do that, as you will put lots of strain on the opener, cables, and other parts.
So What Do I Do When Springs Break?
It's important you don't touch them or try to keep using the garage door normally. Without the springs, there's no proper support, so you risk a frayed cable getting off the drum or breaking too. Not to mention, if you've got more than one garage door spring, the second one can follow suit if you don't get the one that broke replace in a timely fashion. And for such needs, Garage Door Repair Saint Paul provides broken spring replacement solutions 7-days a week. Whenever you've got a problem with broken or weak springs, our local technicians can provide the assistance you need.
We Replace Broken Springs For Saint Paul Garage Doors
You can always turn to our local team for help with such issues. Some minor maintenance like spring lubrication you can do yourself. But when it comes to installing new springs or replacing broken ones, you better not. Why put yourself in the path of potential danger when you've got help close by. With a commitment to providing the best customer service, our emergency broken garage door spring repairmen near Saint Paul do their utmost to come to your aid ASAP. When you're dealing with a broken spring, avoid taking any risks. Call anytime for same-day garage door spring replacement for all nearby areas.